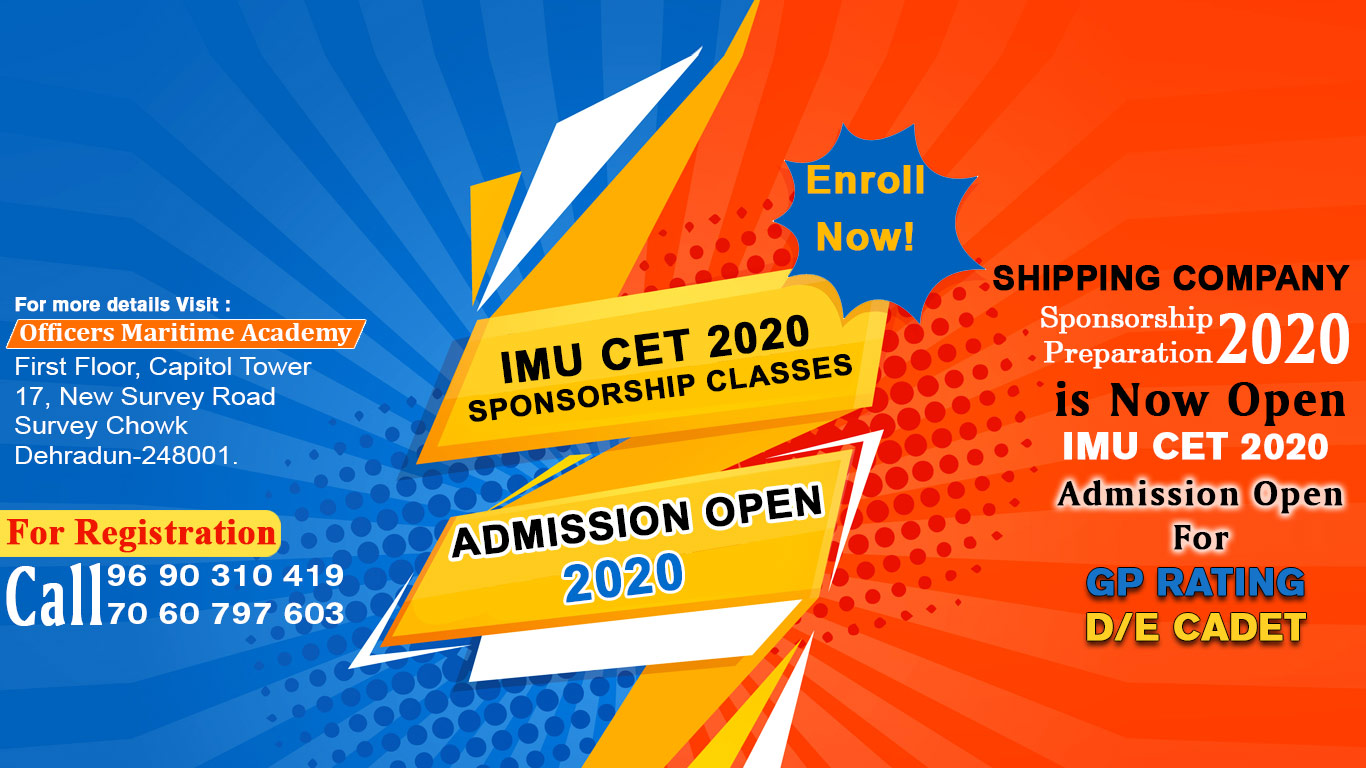 Maritime Career Consultancy
Officers Maritime Academy is an Maritime education consultancy dedicated towards providing services to Students in making Maritime education avenues accessible to them.
IMU-CET & Sponsorship Coaching
Officers Coaching Classes Makes Use Of Extensive, Elaborate And Highly Effectual Tried & Tested 360 Degree Preparation System which Is A Proven Formula For Success Of Our Students.
Issuance of CDC
Officers Maritime Academy also helps you to get the CDC(Continuous Discharge Cum Seafarers Identity Document) for the Various Flag States like Liberia,Panama, Bahamas,Belize etc.
JOIN OFFICERS MARITIME ACADEMY TO GET SPONSORED FROM LEADING SHIPPING COMPANIES.
100% RESULT ORIENTED ACADEMY IN INDIA.
BEST WAY TO SECURE YOUR CAREER 

IN

 MERCHANT NAVY IS TO GET SPONSORED FROM A MAJOR SHIPPING COMPANY. DO NOT PAY HEFTY AMOUNTS FOR PLACEMENT, PREPARE WITH US AND SECURE YOUR JOB PRIOR COURSE COMMENCEMENT.

WE AT OFFICERS MARITIME ACADEMY PREPARE FOR SPONSORSHIP TESTS OF LEADING SHIPPING COMPANIES AND MAKES SURE THAT OUR CANDIDATES ARE SELECTED 

IN

 ONE OF THE MAJOR SHIPPING COMPANIES.

Preparation batches for companies like MAERSK LINE, ANGLO-EASTERN, GREAT EASTERN, FLEET, BSM, SYNERGY, etc covering all levels of selection procedure including Application, Aptitude exam, Online exam, Panel Interview exam, Psychometric exam, Medical test, etc.
Preparing for exams is the best way to secure your job and is the legal process too.
Our main objective - is to provide candidate with Job security prior they go for their courses and to help them finding the right way in merchant navy without spending hefty amounts for placement.
A drive against corruption - There are many agents in India demanding several lacs of rupees for placement services, our main objective is to help candidates saving their money and to get sponsored by leading shipping companies without paying heavy amounts for placement/recruitment services. Preparing for exams is the best way to secure your job and is the legal process too.
Testimonials
The Education facilities and the preparing material provided here is very good helped me in clearing IMU CET & Sponsorship Test.

Purshottam Keram

Best teaching staff and best teaching skills for clearing any companies Sponsorship Test.

Jashanjeet Singh